Stay & Dive packages!
Pour les amateurs de plongée sous-marine et de sports nautiques, faites vos valises! Moulin Sur Mer vous attend. Plongez dans la mer des Caraïbes et profitez de la nature dans sa forme la plus pure: Un safari d'aventure qui vous remplira d'émotions.
À un prix imbattable, profitez de notre forfait «Stay & Dive» pour découvrir les multiples facettes de la Côtes-des-Arcadins. Animaux fascinants totalement inoffensifs, climat merveilleux et bonne ambiance tropicale : Que demander de plus?
Vous n'avez aucune expérience en plongée ? Détendez-vous! C'est l'occasion rêvée: Inscrivez-vous aux cours PADI de Marina Blue et obtenez une certification pendant votre séjour avec nos experts.
Vous pouvez soit vous amuser dans les eaux cristallines des îlots avoisinants et nager avec les Wahoos et les dauphins, des espèces marines privilégiées de la côte ou explorer les épaves immergées et les récifs coralliens qui sont des espèces les plus représentatives de la faune marine des Caraïbes. Notre programme comprend jusqu'à 5 plongées en mer, des randonnées à Kay Piat, et des visites au Musée Ogier Fombrun, des transferts depuis et vers l'aéroport / Pétion Ville. Si vous avez déjà rêvé du Paradis, Moulin Sur Mer est sans aucun doute le lieu rêvé
Tout ce qu'il y a à faire c'est de choisir votre forfait Stay & Dive ».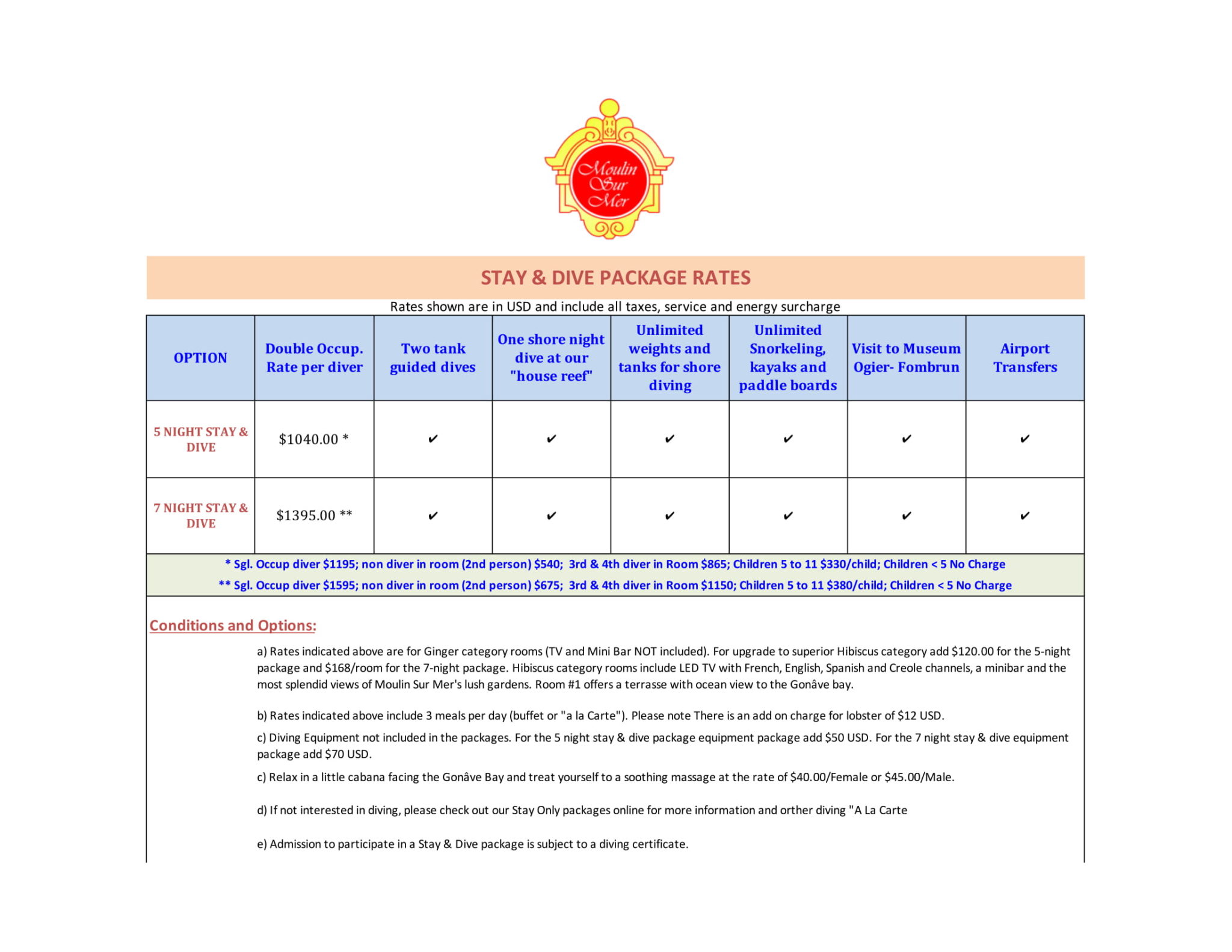 CONDITIONS
-All long-stay hotel Paradise and Stay & dive packages must be reserved and paid in advance by wire transfer or a valid credit card. You will be e-mailed aconfirmation notice showing your spot is guaranteed.
The cancellation policy for 5 and 7 night packages is as follows:
Reservations cancelled greater than 21 days prior to arrival date will be reimbursed.
Reservations cancelled within a window of 10 to 21 days will be charged 30% of the cancelled room(s) total charges.
Reservations cancelled within a window of 3 to 9 days will be charged50% of the cancelled room(s) total charges.
Reservations cancelled within a window of less than 3 days will be charged 100% of the cancelled room(s) charge.
Exceptional Conditions:
No refunds due to inclement weather, or any partial refunds due to client's decision to abstain from any component listed in the package.
In the event of an Act of God where services and activities are unable to be tendered, the guest will be reimbursed a portion of the entire package, prorated according to the number of days affected.
By signing up for dive and other excursion activities, the client confirms that all members of his/her group are physically capable to participate and release Marina Blue and Moulin Sur Mer from any liability in the event that any member cannot participate due to physical reasons.
Moulin sur Mer Beach Resort Management