DISCOVER HAITI ABOVE AND BELOW!
For Scuba diving and water sports fans, pack your bags! Moulin Sur Mer is waiting for you. Dive in the open sea of the Caribbean; enjoy nature in its purest form: An adventure safari that will fill you with emotions.
At an unbeatable price, take advantage of our "Stay & Dive" package to discover the many facets of the Arcadin's Coast. Fascinating animals totally harmless, a wonderful climate and good tropical atmosphere: What else can you ask for? If you have no diving experience, Relax! This is your chance: Sign up for Marina Blue's PADI courses and get certified during your stay with our experts.
You can either enjoy the crystal clear waters of the surrounding islets and  swim with the Wahoos and dolphins, a privileged marine species of the coast or or explore the submerged shipwrecks and coral reefs that are the most representative species of Caribbean marine fauna. Our program includes up to 5 dives at sea, excursions to Kay Piat, and visits to the Ogier Fombrun Museum, transfers to and from the airport / Petion Ville. If you've ever dreamed of paradise, Moulin Sur Mer is without a doubt the place in your dreams. All you have to do is choose your Stay & Dive Package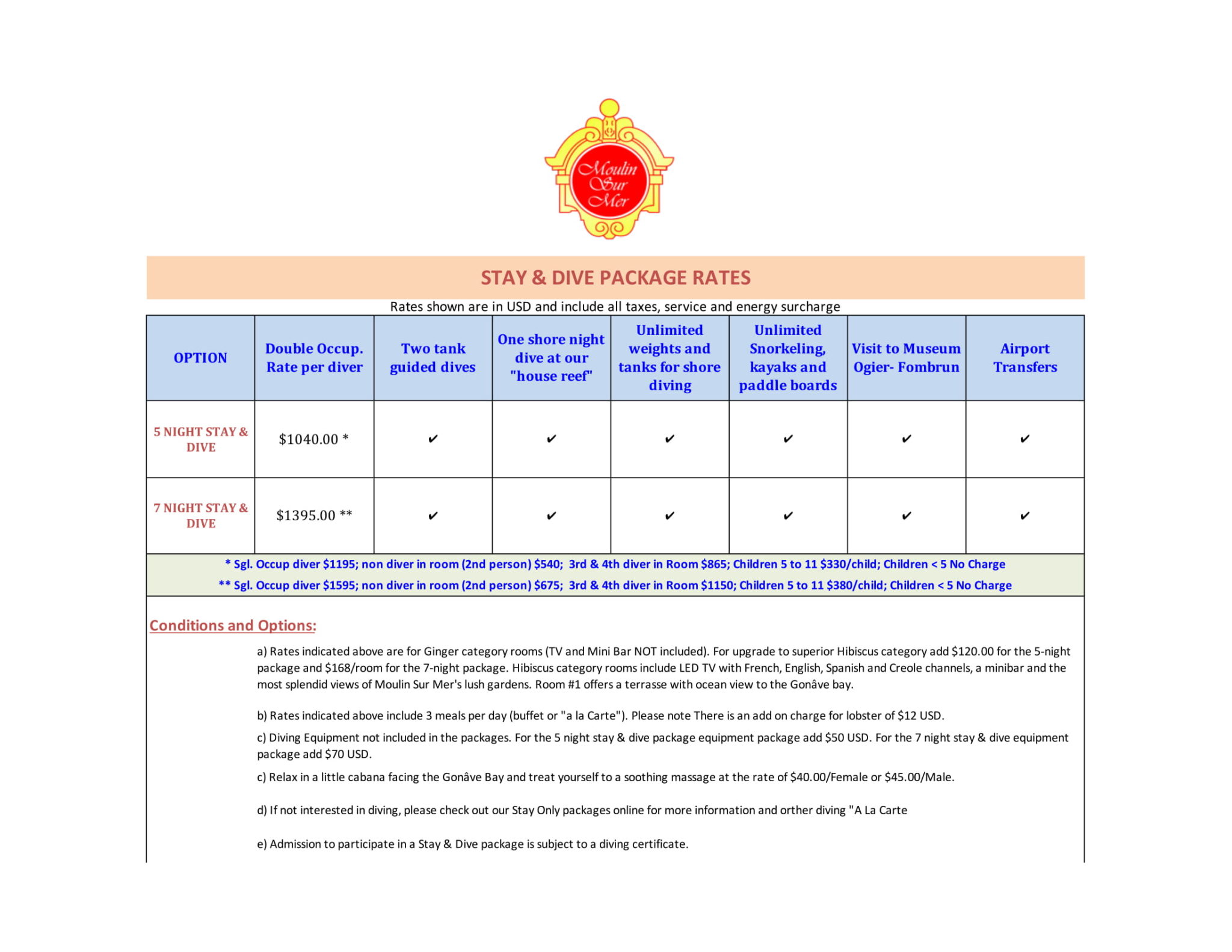 CONDITIONS
-All long-stay hotel Paradise and Stay & dive packages must be reserved and paid in advance by wire transfer or a valid credit card. You will be e-mailed aconfirmation notice showing your spot is guaranteed.
The cancellation policy for 5 and 7 night packages is as follows:
Reservations cancelled greater than 21 days prior to arrival date will be reimbursed.
Reservations cancelled within a window of 10 to 21 days will be charged 30% of the cancelled room(s) total charges.
Reservations cancelled within a window of 3 to 9 days will be charged50% of the cancelled room(s) total charges.
Reservations cancelled within a window of less than 3 days will be charged 100% of the cancelled room(s) charge.
Exceptional Conditions:
No refunds due to inclement weather, or any partial refunds due to client's decision to abstain from any component listed in the package.
In the event of an Act of God where services and activities are unable to be tendered, the guest will be reimbursed a portion of the entire package, prorated according to the number of days affected.
By signing up for dive and other excursion activities, the client confirms that all members of his/her group are physically capable to participate and release Marina Blue and Moulin Sur Mer from any liability in the event that any member cannot participate due to physical reasons.
Moulin sur Mer Beach Resort Management