One step closer to paradise!
Moulin Sur Mer Beach Resort welcomes you all year long, for all your desires! Choose a stay that suits you; enjoy personalized service in the greatest privacy with exclusive activities and moments just for you. Upon your arrival, treat yourself to our welcome drink based on cane juice, then a personalized check-in with our dynamic and friendly team.
Our "Paradise" package gives you the opportunity to discover the hidden treasures of Côte-des-Arcadins. Between land and sea, in the heart of our paradise or in the heart of nature, a trip to the past at the Ogier Fombrun Museum is essential. Embark on a "Vitamin SEA" tour on the island of Gonâve with the team of Marina Blue.Dive into the turquoise waters of Anse à Galets, Anse-à-Pirogue ou Anse-à-Raisins. Breathe a new air, walk the marked trails of Kay Piat and discover a host of activities to keep fit. Fill up on energy with our underwater dives and our PADI courses. Devote yourself to your vacation and let us take you to Heaven …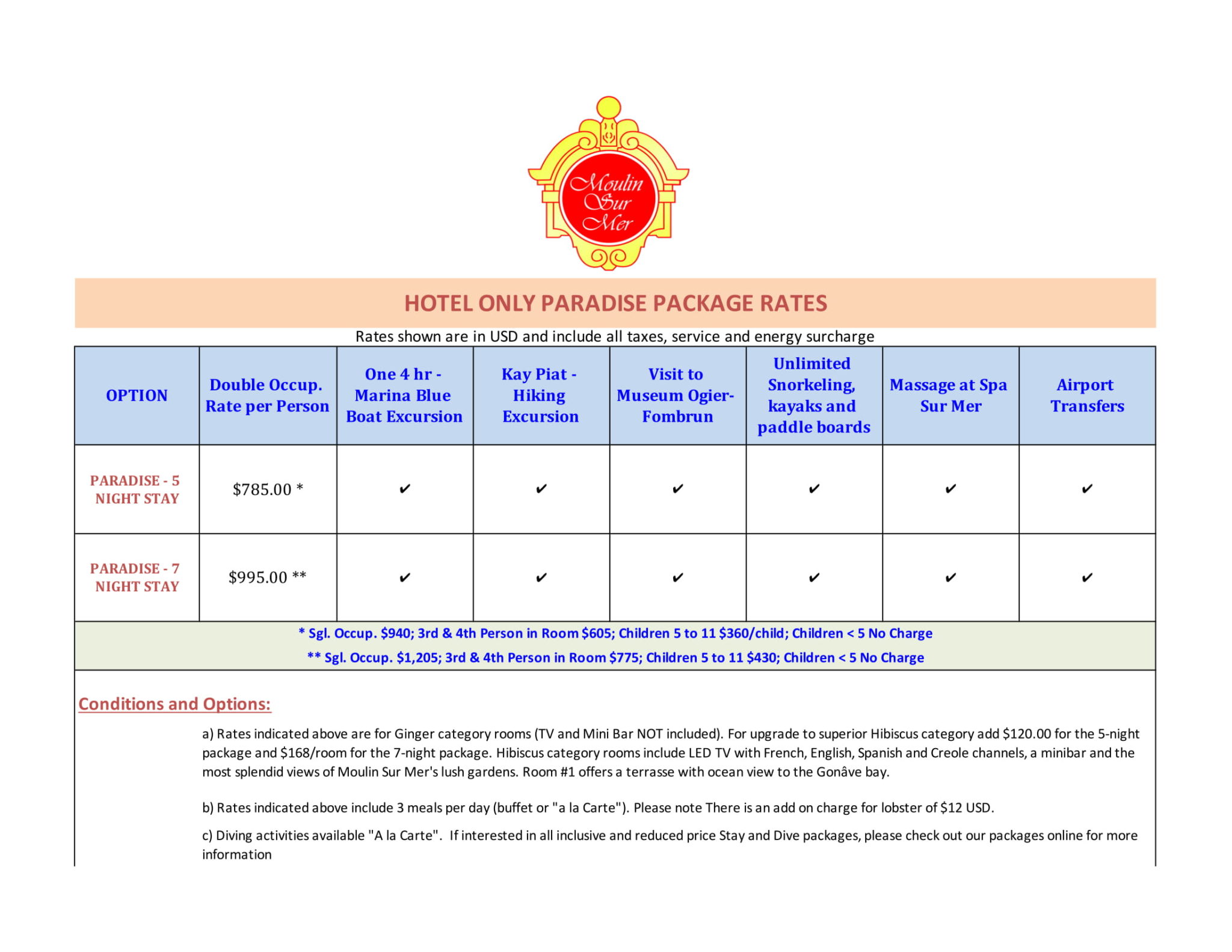 CONDITIONS
-All long-stay hotel Paradise and Stay & dive packages must be reserved and paid in advance by wire transfer or a valid credit card. You will be e-mailed aconfirmation notice showing your spot is guaranteed.
The cancellation policy for 5 and 7 night packages is as follows:
Reservations cancelled greater than 21 days prior to arrival date will be reimbursed.
Reservations cancelled within a window of 10 to 21 days will be charged 30% of the cancelled room(s) total charges.
Reservations cancelled within a window of 3 to 9 days will be charged50% of the cancelled room(s) total charges.
Reservations cancelled within a window of less than 3 days will be charged 100% of the cancelled room(s) charge.
Exceptional Conditions:
No refunds due to inclement weather, or any partial refunds due to client's decision to abstain from any component listed in the package.
In the event of an Act of God where services and activities are unable to be tendered, the guest will be reimbursed a portion of the entire package, prorated according to the number of days affected.
By signing up for dive and other excursion activities, the client confirms that all members of his/her group are physically capable to participate and release Marina Blue and Moulin Sur Mer from any liability in the event that any member cannot participate due to physical reasons.
Moulin sur Mer Beach Resort Management